The shopping centre is open from
7 a.m. to 7 p.m, Monday to Friday
and Saturday from 8 a.m. to 7 p.m.

Tram 39
Stop: Stockel
20m from the main entrance of the shopping centre
Bus 36 (STIB)
Stop: Stockel
100m on foot from the main entrance
Bus 315 and 317 (De Lijn)
Stop: Kraainem Potaarde
5min on foot from the main entrance
Stockel Square has several parking entrances:
Avenue de Hinnisdael – Brussels
Rue Dominique de Jonghe – Brussels
Rue de l'Eglise – Brussels
The underground car park is closed from 8 pm to 6.30 am, and on Sundays.
The outdoor parking (entrance via Rue Dominique de Jonghe) is accessible 24/7.
Contact Parking
E-mail: stockelsquare@interparking.com
Phone: 02/549.54.54
Car Sharing
DriveNow parking located in the outdoor car park (yellow spaces)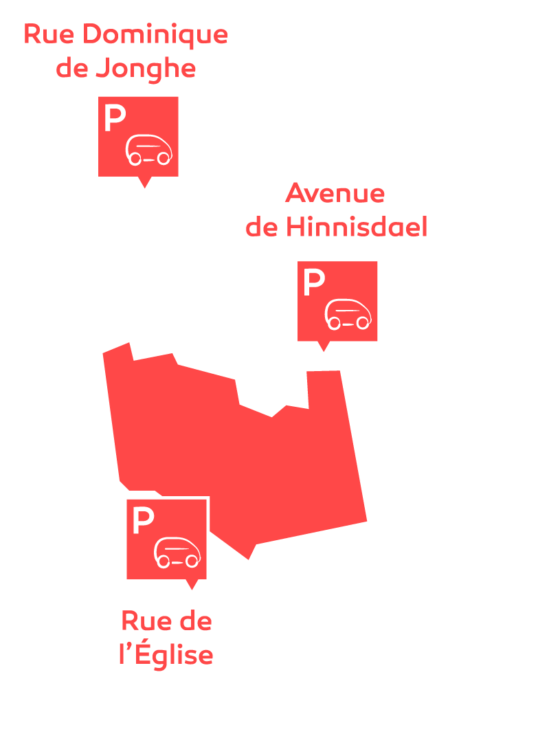 1h30 of parking is offered
from Monday to Friday between 5 p.m. and 8 p.m..
From Monday till Friday: 1/2h free
¼h: 0,50€
+6h15: 12,50€
Evening rate (between 7 p.m. and 8 a.m.): 2€
The Place Dumon, transformed into a meeting zone and equipped with bicycle parking, makes Stockel Square particularly accessible to soft modes of transportation.
5 bicycle parking lots are also available at the entrances to Stockel Square.
Accessibility for people with reduced mobility is guaranteed, both from the metro and from the parking lots (elevators).
The wide and flat aisles allow an easy and comfortable circulation for all.